Natural Potash
KRIBHCO Natural Potash is manufactured from molasses. Molasses the honey-like viscous syrup, is the most valuable by-product from the sugar industry. It is the residual syrup obtained during production of sugar in sugar factories.
KRIBHCO Natural Potash is a potassium rich fertilizer.
It is correctly formulated and safe for all type of plants/crops.
It has longer shelf-life.
Helps in photosynthesis process in plants.
Improves the quality and prolong shelf-life of the crop produce.
Support to increase the plant growth and improves drought resistance quality of crops.
It activates many growth related enzymes of the plants.
It improves soil aeration and prevents leaching losses.
It improves water-retaining capability of the soil.
Used at the time of crop sowing as basal dose.
Preferably applied separately but can also be mixed with other fertilizers.
Natural Potash dosage is recommended as 4-5 bags of 50 kg. i.e. 200-250 kg. per acre.
It can be mixed with soil for application in field/ crops.
For individual plants about 500 grams to 1kg/plant is recommended.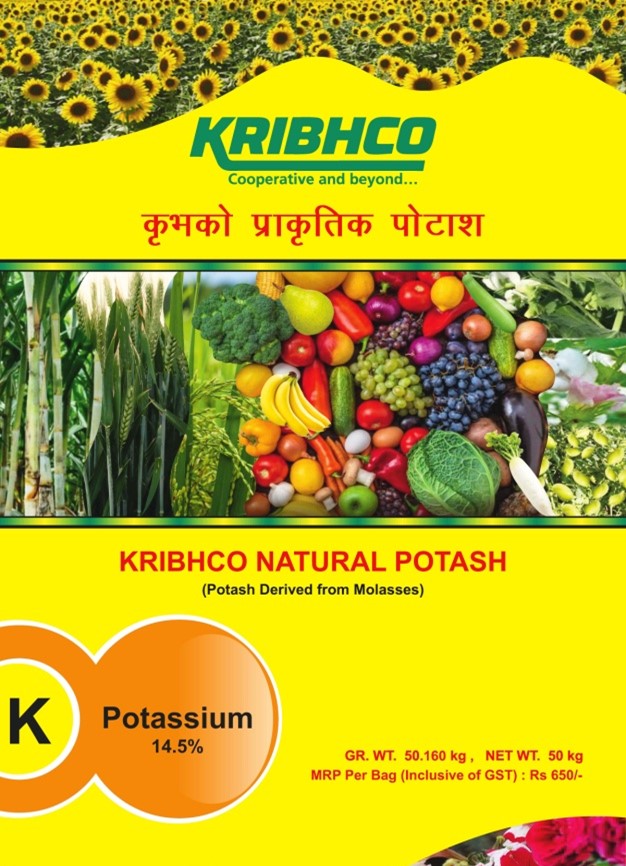 FCO Specifications (As amended up to February 2019): Potash Derived from Molasses
---
| Parameter(by weight) | % |
| --- | --- |
| Moisture %, minimum | 5.0 |
| Water soluble potassium (as K2O) %, minimum | 14.5 |